Day 1 – LAX>ATL>Savannah
Our flight landed in Atlanta early in the evening. From the airport, we had a 3 and a half hour drive to Savannah. When planning this trip, we initially planned on spending the first night in Atlanta. However, the excitement of seeing Savannah, and the 3am last call, prevailed over the one night stay in Atlanta. We arrived at the River Street Inn after 11pm to check into our room. We might have arrived earlier, if not for the difficulty finding the right turn, as there is no street sign, If you miss said entrance, you will typically be guided to make a right on River Street, which is a long cobblestone one-way, in order to circle around and get back on to Bay Street. We missed the right about 3 times. Aside from the difficulty finding the entrance, The River Street Inn is a great location to stay in the historic district. The hotel has access to both River and Bay streets, and is easy walking distance to just about anything in the historic district. Once checked in, we quickly dropped off our bags with the ghosts in our room, and hit the town.
We walked down toward River Street and popped into Wet Willie's for a potent slushy. When I say popped in, I mean those slushies were walking fuel for us. Like New Orleans, you are allowed to walk the streets with a clear 16oz cup full of your beverage of choice, albeit in a well-defined zone. The beauty of allowing a go-cup or traveler is that you don't have to stay in one place too long. We walked with our drinks from River Street up toward City Market and Ellis Square, which were teeming with people well after midnight. After a quick stop off at World of Beer, we set out to find the Alley Cat Lounge for a cocktail. The Alley Cat Lounge is an awesome place to grab a drink, if you can find it. I'll give you a big hint, just as the website does, it is in an alley. Walking directions on a phone will have you circling W Broughton St. Luckily, if you've brought a traveler with you in your search for the Alley Cat, you won't mind as much! The bar has a cool, almost speakeasy-like interior, and has an extensive drink menu printed like a small old-timey newspaper. Definitely a great place to stop, and I can vouch for the Sazerac.
After a quick visit to the Alley Cat Lounge, we stopped into The Rail Pub. The Rail Pub is a 2 story bar housed in an old building that was completed in 1890. The building had previously existed as a boarding house and even a brothel. It is likely haunted, along with much of the historic district.  The Rail Pub has not only offers strong drinks and karaoke, but also 5 dollar 40oz beers in a brown bag in case that's your thing. At this point, we made it to last call, as the time difference had us wide awake at 3am. So much so that we stopped at a food truck serving Jamaican food, to split a plate of Jerk chicken, rice and peas, and macaroni before bed. Nothing screams bedtime snack more than that combo of food, right?
Day 2 – Savannah: A Day in the Historic District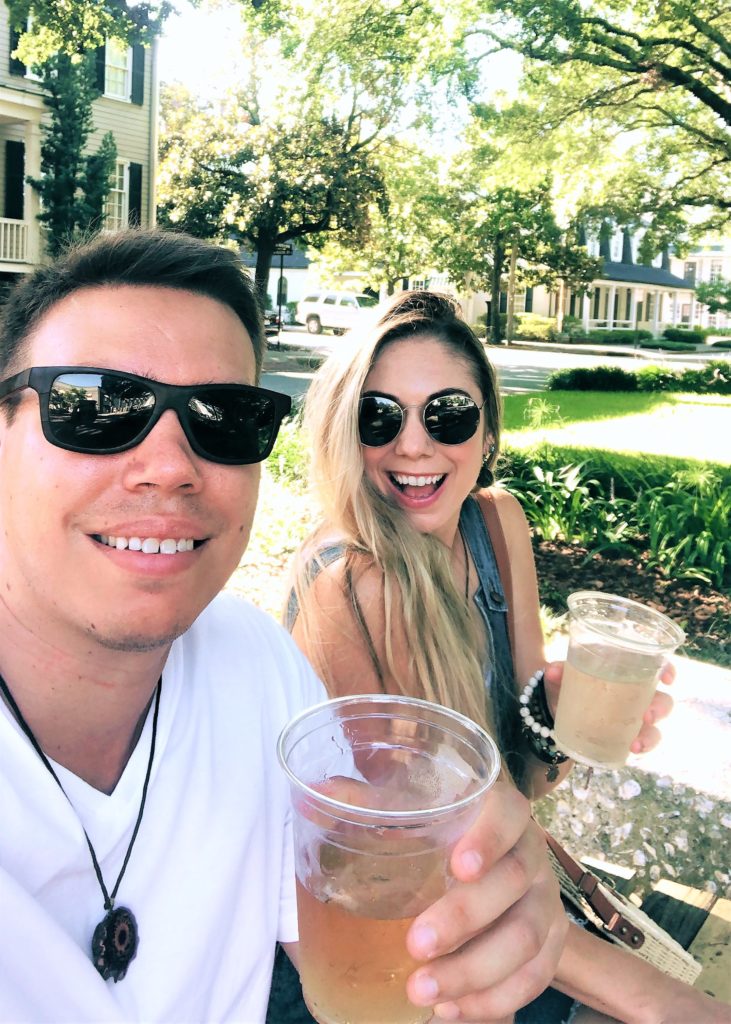 On our first full day in Savannah, we woke up giddy at the prospect of seeing the Historic District in daytime. Having arrived in the evening, you can make out the silhouettes of the old buildings in the Gaslamp lighting, and catch glimpses of the Spanish Moss from the Live Oaks in the moonlight. Yet when you are arrive in an unfamiliar city at night, you don't really have the chance to get your bearings when much of the area is shrouded in darkness. So with a fresh day to look forward to, we naturally began the day drinking champagne at a restaurant in the basement of an old building. While the restaurant is called The Ordinary Pub, the setting is anything but. From the street level, you walk down a staircase that leads you into a bustling gastropub within a brick-walled basement. The menu houses some pretty unique brunch options on the weekend, like Pork Belly Donut Slide(r)s. For $10, mimosas are bottomless, and when you are ready to leave, they'll even pour you a "togosa"!
After brunch, togosas in hand, we began to tour the district by foot, beginning at Forsyth Park. The main draw for us at Forsyth Park was the large fountain at the northern end of the park, which sits in the center of walkways covered overhead by tall live oaks with spanish moss blowing in the breeze. This is a beautiful place to sit on one of the park benches and people watch or simply admire the park scenery itself. From Forsyth Park, we walked over to the Mercer-Williams House. Having been popularized the the novel and film, Midnight in the Garden of Good and Evil, The Mercer Williams house was the site of the shooting death of Jim Williams's assistant, Danny Hansford. Reknown Savannah Historic preservationist Jim Williams was tried 4 times for the murder of Hansford, and was the only person in the state of Georgia to be tried for the same crime four times. From the Mercer-Williams House, we stopped at the Sorrel-Weed House and the Cathedral of St. John the Baptist. Prior to our next stop, Chippewa Square, we detoured into MacDonough's to grab to-go beers. MacDonough's will forever stick out on this trip because, as we walked in, the 5 gentleman sitting at the bar each shouted "Hello!!" to us, one by one. Was this Cheers?! We grabbed 2 beers, and walked over to Chippewa Square. Chippewa Square happens to be the square where the bus stop scenes were shot for Forrest Gump. While the actual bench is not there, you can pretty much identify where the scenes were shot. We enjoyed our beers on a bench in the square before stopping by the Harper Fowlkes house and then walking over to see Savannah's Rainbow Row. While we could have taken a trolley of carriage tour of the district, we enjoyed the freedom of walking and seeing the town at our own pace, and with the option to walk with a beverage
After our self-guided tour of the historic district, we headed back to our hotel to get ready for dinner at the Olde Pink House. If you are looking to dine on lowcountry cuisine in an elegant 18th century mansion, look no further. The service was great, and the ribeye was even better. After dinner, we stopped at the Moon River Brewing before heading to Johnson Square for the start of our evening ghost tour, the Dead of Night Tour by Ghost City Tours. As Savannah is considered the most haunted city in America, you have to do a ghost tour. Not only do you get to see Savannah in a different light, but the tour guide will provide you good insight into the local lore and describe each haunted place in relation to its importance in Savannah. If booking this tour, it is important to note that it starts at 11pm, so keep your fingers crossed that you have a lively group. The people on our tour were silent, asked no questions, and really weren't interested in engaging the tour guide.
Day 3 – Savannah: Wormsloe State Historic Site, Bonaventure Cemetery, and Tybee Island
On day 3, we spent our morning and afternoon outside of the Historic District, starting at Wormsloe State Historic Site. The Wormsloe State Historic Site offers costumed interpreters and colonial exhibits, such offering were not of interest to us on this day. The main draw to Wormsloe for us was the mile long entrance to the main area that is completely lined by Live Oaks draped in moss. The oak-lined road is quite picturesque and worth the short drive out of the district. While the do charge you an entrance fee, if you are just visiting to drive down the road and back, the admission is half-price.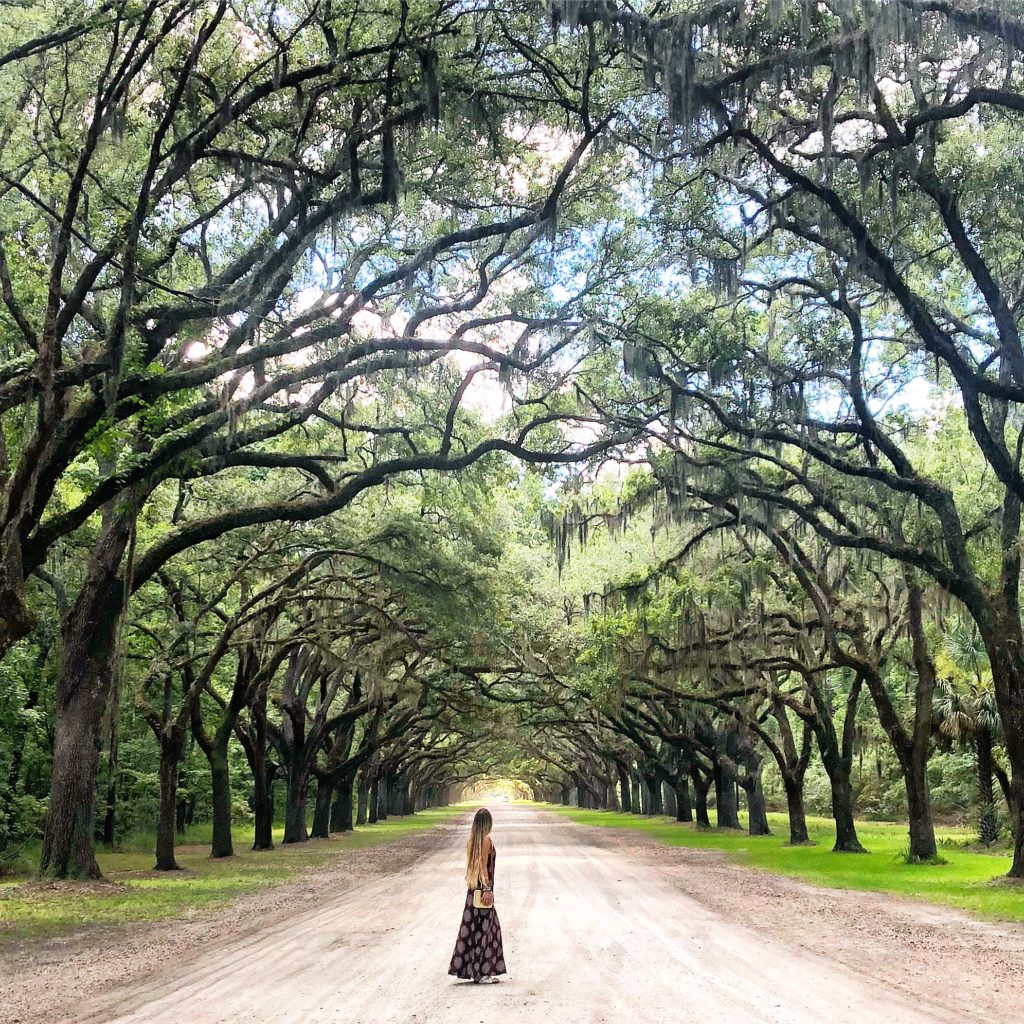 From Wormsloe, we then visited Bonaventure Cemetery. Bonaventure is a beautiful and, at 160 acres, massive cemetery located on a bluff overlooking the Wilmington River. We spent some time walking among the mausoleums and tombs, with many sites housing generations of families. The amount of detailed placed into the headstones and statues of some of the buried were magnificent, and to walk among such art dedicated who've long passed, was an eerie, yet serene experience. Two burial sites that are must-visits are the graves of Gracie Watson and Johnny Mercer, co-founder of Capitol Records.
After Bonaventure cemetery, we figured we'd add a little beach time to our day, and drove over to Tybee Island. Tybee Island was actually a milestone moment for one of us, as I (Justin) had never been in the Atlantic Ocean before. The water was the perfect temperature to cool us down after spending time battling the sun and heat while visiting the cemetery. After spending some time in the water, we got lunch and alcoholic slushies at Fannie's on the Beach.
In the evening, we had dinner on River Street at Bernie's Oyster House. While we initially had reservations for The Pirate's House that we ended up having to cancel due to time constraints, a half dozen oysters and a lowcountry boil at Bernie's still hit the spot. After dinner, we decided to walk around and check out a couple more watering holes on our last night in Savannah. We popped into Abe's on Lincoln, which is a great little neighborhood dive that had live music and was lined from floor to ceiling with customer drawings of Abraham Lincoln on cocktail napkins. From Abe's we went to The Original Pinkie Masters, which exists in history as the place where Jimmy Carter announced his candidacy for president in 1978. The walls are lined with numerous articles about Jimmy Carter along with other eclectic eye candy. Pinkie's is definitely a must-stop when in Savannah.
From Pinkie Master's, we walked over to 17hundred90 Inn and Restaurant. 17hundred90 is a frequent stop for Savannah Ghost Tours, so if you are standing in front of the hotel at the right time, you can hear a little bit of an explanation as to why there is a female doll staring out of one of the window of room 204. Room 204 is said to experience some serious paranormal activity, and is rented out to guests in case you are looking to test your belief in spirits. We came to 17hundred90 for spirits of the alcoholic variety, so we made a quick visit to the hotel bar.
Before heading back to the hotel, we decided to get one last drink at the Rail Pub. After all, one of us was going to have to order that damn $5 dollar 40oz before we left Savannah. We sat down at the bar downstairs, opting to hang out away from the loud karaoke upstairs. While the bar was not busy, we came across a friendly bartender and an eclectic mix of chatty patrons. We needed to be up early in the morning to get to Carolina Heritage Outfitters in Canadys, SC by 930am for an overnight canoe trip and treehouse stay on the Edisto River. While we had imposed an 1130pm curfew, we stayed out until well after 2am.
Day 4  – Edisto River Canoe Trip and Treehouse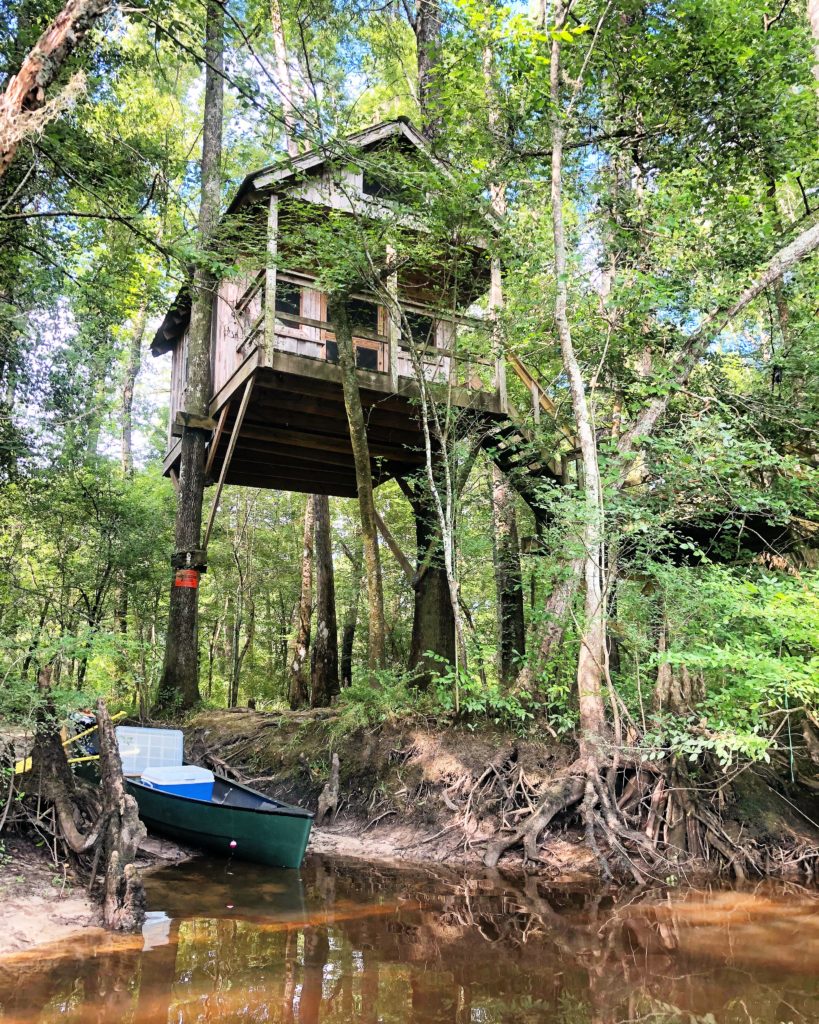 We slept through our alarm, and didn't get on the road until about 830am. That gave us about an hour to make an 80 mile drive and stop for last minutes supplies and fishing licenses. Needless to say, we had to call Carolina Heritage Outfitters, and let them now that we were running behind. We were very fortunate that we were the only group that was being shuttled upriver that morning, so we could be shuttled whenever we finally arrived.  We Met Scott and Anne Kennedy at Carolina Heritage Outfitters around 1030am. Anne gave us a bit of information on what to expect on the river and at the treehouse. After we signed our waiver, we jumped in the van with Scott and headed to the put-in spot up river. Before setting us off on our adventure, Scott gave us some instructions on how to properly canoe, which was helpful as we have had a lot of experience canoodling, but not so much canoeing. The most important instructions he gave us were to keep the cooler accessible and to stop and swim as much as possible. We then hopped in the canoe, and started on our 11 mile paddle to the treehouse.
So there we were, canoeing down the longest stretch of blackwater river in North America by ourselves, cooler full of adult beverages, meandering at our own pace. Having been on various rivers in the Western U.S., the Edisto was drastically different than any we had experienced prior. When the sun hit the water, the water appeared to be the color of sweet tea, or Twisted Tea if that's your flavor. Propelled by a gentle current (they consider this river a kayaker's dream) we made our way down this beautiful river, admiring the Cypress trees lining the shore and dodging low hanging branches and downed logs. We occasionally paddled by swampy tributaries, assuming each was some kind of Alligator Alley. Aside from the the occasional fisherman working the underwater structure near the shoreline, we probably saw more turtles than humans for miles.
It took us about 4 hours to get to our treehouse, as we had stopped a few times to hop in the river to cool off. It is the South in July, after all. The treehouse blended in so well to the surrounding landscape that we are glad Scott and Anne placed a little marker to designate when to start looking for their property. Scott and Anne have a total of three treehouses spread out on 100 acres on their own private refuge. Each treehouse is located on the riverbank, and are spaced out enough to offer a lot of privacy. We booked the smallest of the three treehouses, which Scot described as his favorite, as it was the first treehouse built.
When we spotted our treehouse, we veered over to the shore to park our canoe. The moment seemed like a dream to both of us. As if canoeing through an unfamiliar part of the country wasn't surreal enough. We headed up the steps to check out the main cabin, while first admiring the middle deck halfway up the steps. The deck features a small propane grill, a picnic bench, and tiki torches to keep the mosquitoes away. The main cabin is a perfectly constructed one room, multi-leveled dwelling with windows on all sides. There is a futon on the main level, and a ladder-equipped loft with a mattress and a small triangular window that overlooks the river. While there is no electricity, you are provided with lanterns and an abundance of kerosene candles to create enough of a glow in the evening. There is an inside stove and just about everything you would need for cooking on wither the stove or the propane grill outside.
After checking out the treehouse, we walked back down steps and headed toward the hammock, where we took a nap. If you are keeping score, we went to bed at 3am the night before, drove an hour and a half to get shuttled another half hour upriver, to paddle 11 miles down that very same river. Nothing like napping in a hammock on a summer afternoon, in the middle of a wildlife refuge, eh? When we woke up, we decided to take Anne's advice, sit in our lifejackets and do a 45 minute float down the river. The way the property is carved by the river makes it so that you can slowly float from our treehouse to the third treehouse, get out of the river, and take a short walk back on land to our treehouse.
We each grabbed a tall can of PBR, put our legs through the armholes of our lifejackets, and took the river for a ride. Along the way, we passed a couple staying at the second treehouse. The gentleman spotted us from the shore and yelled to us, "Gee, it doesn't look like you guys know how to have any fun!" we laughed and said "oh absolutely not!" Then I mentioned to Heidi that it would be all fun and games until a gator pops up. The woman gathering things from their boat, heard what I said and remarked, "Y'all we saw gators!" Shit. For a second there, panic set in. We still had half the float to go! Perhaps she was pulling our leg. I'd rather she be the only entity pulling either of our legs on this river. Nevertheless, we continued floating along, enjoying a beer and laughing manically at the thought of gators swimming below us.
We reached the exit point and headed back to the treehouse. As evening approached, we figured it would be a great time to toss a line out. We brought an Eagle Claw Pack-It Telescopic Rod so that we didn't have to take a full-sized rod on the flight. Armed with a tub of red worms, we would cast out about 10 feet from shore, and would get a bite within a minute or two. In about an hour, we caught and released 12 panfish of various species. Fishing the Edisto? Yeah, you can go ahead and cross that off the list.
In the evening, we hung out on the middle deck and cooked dinner. We put the propane grill to use, cooking steaks and corn on the cob. We sat on the deck for a while, relaxing after a long day and a good meal. Aside from the light of the torches, it was pretty dark out there in the middle of nowhere. The stars were beautiful, and the Cicadas did their best to drown out the music we were playing, like a battle of the bands showdown between George Strait and Mother Nature. The feeling of being out there was different. While being used to mountain and desert landscapes, this little treehouse area on a blackwater river in South Carolina, was unlike anything we had done at this point. The day flew by quick, as we were entranced with this brand new experience, senses overloaded with new sights and sounds out in the boondocks. Going to sleep that night meant that our time at the treehouse was coming to an end. We would be waking up and paddling back to our car. Not to worry though, those cicadas I mentioned kept us up for an extended amount of time.
Day 5 – Edisto River >Charleston
The noise and humidty made sleeping a bit tough, but it cooled down in the early morning hours. We both woke up a little after the sunrise, and I went fishing while Heidi decided to lay down for a while longer. While Heidi was laying there she said she heard a lot of little splashes in the water. That was the sound of me catching fish, adding 4 more to the previous total. Once she woke up, we took a stroll around the property before packing up and heading back on the water to paddle the last 10 miles to our car. It was fourth of July and we were headed to Charleston to celebrate. The morning started out a bit overcast, so we had the opportunity to see the river in a different light. The water appeared to be living up to its blackwater moniker, opaque in color juxtaposed against the mossy cypress trees. Halfway through our paddle, it began to pour. We could hear thunder off in the distance, and hugged the shoreline in case we saw any lightning in the area. Fortunately for us, we were just getting rain, so we reveled in the warmth of the raindrops.
We safely made it back to Carolina Heritage Outfitters, and hopped into our car for an hour and a half drive to Charleston. As we got closer to Charleston, the gray skies gave way to sunny and clear conditions. We checked into our hotel, The Meeting Street Inn, and immediately hit the antique four poster bed for a nap. The Meeting Street Inn is in a perfect location to explore the Historic District of Charleston. Located across from City Market, the hotel is a short bike ride or walk to historic sites, restaurants, bars, and shops.  While it is an older hotel, the décor and furnishings definitely add to the historic feel of the surrounding area. They also offer free breakfast in the morning, and offer free wine and cheese in the lobby in the early evening.
We woke up from our nap, and got ready to hit the town for the evening. We had tickets to a 4th of July rooftop party at the Watch, which is a restaurant at the top of The Restoration. Instead of heading directly to the event, we decided to walk around for a while to get our first taste of Charleston, starting with a stroll through Waterfront Park. The park was hopping with activity as children were wading in the large Pineapple fountain, and groups of revelers claimed areas on the grass to watch the fireworks that were being launched from the USS Yorktown across the harbor at Patriots Point. We circled back up E Bay St, passing the famous Rainbow Row, and made a pit stop at 5Church. Whether you have time for a full sit-down meal, or just a drink, 5Church is worth a visit to check out the uniqueness of the space. The restaurant/bar is actually housed inside of a former church, so there are stained glass windows on three sides of the building, excluding the long bar area with its towering liquor shelves. While looking up at the high pointed ceiling, you will notice that the roof is covered in writing. All of that writing is actually text from Sun Tzu's The Art of War. While that appears to be totally random, it looks pretty darn cool. We enjoyed two Moonshine Mules before moving on.
Alas, we finally headed to our 4th of July shindig at the Watch. Being that it was our first time in Charleston, we decided prior to our visit that we definitely wanted to be somewhere with a rooftop to watch fireworks. The Watch is located on the 7th story of The Restoration, and for 75 dollars a piece, The Watch offered what amounted to all you can BBQ and select unlimited domestic beer and wine, along with live music. We took full advantage of the food, having not eaten pretty much the whole day, and those domestics couldn't be consumed quick enough. That Southern heat will challenge you to finish your beverage before it makes the bottle sweat like a sinner in church.  While we were unable to snag an outside table to hang out at for the night, we did carve out a nice spot on the main patio before the fireworks started. From the patio, not only could we see the firework show at Patriot's Point, but there had to be at least 30 plus different fireworks displays shooting off simultaneously. The lack of tall building obstruction and the flat nature of the topography of the area allowed for us to see for miles. Neither of us could recall a time where we've seen that many fireworks shows at once. Once the fireworks ended, we headed to Upper King to check out a couple of bars. Upper King is the central area where most of the bars are located in Charleston. We visited Closed for Business, which is a great option for the craft beer fan. The Belmont was the next stop. The Belmont is a small craft cocktail bar that has a capacity of about 40 and projects black and white classic movies on one of the walls. After the Belmont we made one last stop at Prohibition before heading back to the hotel.
Day 6 – Charleston: Angel Oak, Magnolia Plantation, and Historic District
We had one full day to explore the Charleston area, so we got an early start in order to try and fit in as much as possible. We first drove out to John's Island to see the Angel Oak Tree. The Angel Oak tree is a Southern live oak tree believed to be 400-500 years old, and has withstood numerous storms. The tree is picturesque, like something out of a fantasy movie. It is hard to resist the temptation to climb or sit on the branches, but as the branches are hollow you could potentially damage its limbs. I would recommend visiting this site early in order get pictures of the tree without swaths of people.
After the Angel Oak, we drove up Ashley River Rd. to visit a plantation. We initially drove to Drayton Hall, but the $32 dollar admission tag and time constraints sent us over to the Magnolia Plantation and Gardens. We opted for the Garden Tour, which took us through one of "America's Most Beautiful Gardens". The gardens were open to the public in 1870, and it is said that some parts of the garden are over 325 years old. I'd like to commend the Magnolia Plantation and Gardens for thoughtfully placing a snack bar with beer, wine and sangria right in front of the Garden Entrance. Being responsible adults dealing with a humid 94 degree day, we each bought a water to go with a Palmetto Huger Street IPA (me) and a cup of white Sangria for our garden walk.  We spent about an hour and a half exploring the garden, admiring the beautiful arrangements planted over time, synthesized with the native plant life that continued to thrive. Every so often we would have to cross these romantic white wooden bridges over ponds and wetlands, looking for potential alligators swimming around below. After our long stroll through the garden, you better believe that White Sangria got a revisit.
We then headed back to Charleston for a stroll through City Market and a walking tour of the historic district. Again, instead of paying for a tour, we looking up a free walking tour online. The tour highlighted 17 different points of interest, and while following along with the guide, we came across another group doing the same exact free tour. Among the highlights of the tour were The Pink House (built in 1712), The French Huguenot Church, The Dock Street Theatre, The Circular Congregational Church (The city's oldest graveyard is here), Rainbow Row and Coates' Row. By the time we finished up our walking tour it was happy hour. We put our names on the waiting list for The Gin Joint, and then walked over to the Rooftop Bar at the Vendue. The Rooftop Bar is a great place to enjoy cheap food and drink while taking in great views on the city and the waterfront. We then went back to The Gin Joint, which is a small dimly lit bar,that specializes in gin and cocktails in general. They offer a small selection of cocktails for 5 dollars during cocktail hour, so if you are looking for a cheap Old Fashioned or Gimlet, this is the spot.
While the Gin Joint was a cool place to stop in for a drink, we didn't want to waste the last bit of sunlight in a dark bar, so we rented bikes and road around The Battery and White Point Garden. The homes in this area are gigantic so the neighborhood is definitely worth walking or taking a bike ride through. We road for an hour, then dropped off the bikes then popped into The Griffon for a beer. The Griffon is a cool dive bar covered in dollar bills that guests have stapled to the walls and ceiling over the years. If you happen to stop into the Griffon and see a dollar that says "We got LeBron!" that one is ours!
We went to the hotel to change for dinner, and walked up King St. to The Darling Oyster Bar. The Darling Oyster Bar is located right next to The Belmont on Upper King, so a convenient location to have dinner and then have options to grab some after dinner drinks. The interior of the restaurant combines both modern and vintage elements for a great dining experience, and the raw bar is positioned in front of the storefront window. We started off with 2 oyster shooters and a dozen-plus oysters, then split the King Crab and Lobster Roll.
After dinner, we walked further up King Street, beyond the end of the main strip of bars and restaurants, to a lively dive bar called the Recovery Room Tavern. As a disclaimer, if you do not like dive bars or Pabst Blue Ribbon, then you can probably save yourself a trip. The Recovery Room is the number one seller of PBR cans in the nation. We certainly felt compelled to contribute and help them retain their title. In the short span that we were there, the bartenders were flying through 24 packs of PBR. We each had a PBR before walking back toward our hotel. On the way back, we passed an ice cream truck with crazy lights and loud music that was selling alcoholic push pops. Apparently, Booze Pops are really a thing in Charleston. We shared a Southern Belle Buzz Pop, a sorbet blend of sweet tea, peaches, lemon and bourbon that contained 15% alcohol. It was a nice treat to cap off the warm evening and our time in Charleston. In the morning, we were bound for Asheville.
Day 7 – Asheville…Beer City USA
Asheville is an easy 4 hour drive across South Carolina from Charleston. We drove straight through with the exception of a stop at Bojangles, because, well we kept seeing them. While it was sunny for much of the drive, as soon as we crossed into North Carolina, the weather took a turn. At one point as we began to encounter some rain, we saw a huge lightning bolt strike down near the road just ahead of us. It was a little too close for comfort, as the thunder boomed simultaneously with the lightning, shaking the hell out of the car. This was followed by a wild downpour that had people driving with pulling off the road or driving crawling along with their hazards on. The heavy rain subsided after about 20 minutes, just before we reached the exit for Sierra Nevada Brewery in Mills River, a perfect place to take the edge off.
While it is odd that a California brewery named after a Californian mountain range would set up shop all the way across the country in the Appalachians, they have built a massive yet beautiful facility. After driving through the gates of the "estate" and up the windy forested driveway, we parked in front of the huge compound that houses a multiple story taproom with a huge event space and patio on the second floor, a large store, and the brewing operation. They offer various brewery tours and a self-guided visitor's corridor with exhibits and windows that peer into the various processing areas of the brewery. The main taproom area was pretty crowded when we arrived, so we grabbed a beer from the upstairs bar, and headed out to the patio. The patio overlooks a huge outdoor lawn with an amphitheater for live music. Since the rain had stopped, people were out enjoying the live music and playing bocce ball. This is a starkly different experience than brewery visits in Southern California where more often than not, you are enjoying great beer but confined to a business park suite or warehouse.
After our Sierra Nevada visit, we continued on up the road to Asheville and checked into the Four Points by Sheraton Asheville Downtown.
The First stop of the evening was Wicked Weed Brew Pub. On the way to the Brewpub, we happened to walk past a Purple Bus with a live band playing on it. We thought it was some kind of outdoor patio, but then we saw a line of people with coolers waiting to board. Was this really some kind of BYOB bus ride with a live band? Whatever it was, we continued on to Wicked Weed. The restaurant portion of Wicked Weed was packed so we headed to the downstairs bar. The downstairs bars is adjacent to a large patio, so we found a corner outside to hang out. From Wicked Weed, we ventured further into the South Slope area to visit Green Man Brewery Greenmansion. From the third floor tasting room, you can get a great view of the Blue Ridge Mountains to compliment your beverage. From the Greenmansion, put our names in for dinner at Buxton Hall Barbecue before heading to Catawba Brewing Co. right next door. Heidi ordered a flight, and I ordered a Strawberry Milkshake IPA that had just been tapped that day. There was a bluegrass band playing, which was fitting for the part of the country we were in. It was taking a while for a table to become available at Buxton, so we walked over to Burial Beer Co., which has some pretty interesting beer names. We ordered The Separation of Light and Darkness Saison (see, I told you), and explored the outside patio, which had an awesome mural of Tom Selleck and Sloth from the Goonies
Our table was finally ready at Buxton, and we had certainly built up an appetite at this point. We ordered hushpuppies as an appetizer, and then split a half rack of Saint Louis ribs, pulled pork, macaroni salad, coleslaw, mashed potatoes, and collard greens. The food was great, so this is a great place to go if you are in the mood for Eastern North Carolina Whole Hog barbecue. After dinner, we headed to Twin Leaf Brewery and Wicked Weed Funkatorium. The Funkatorium is Wicked Weed's location that focuses on their sour and funky beer offerings. They had a Bluegrass band playing inside, which was like the third Bluegrass Band we've heard play in only a few short hours. Asheville loves their Bluegrass apparently! We ended the night at Rankin Vault Cocktail Lounge, where we chatted with an off the clock bartender who just finished her shift. We talked about various travels and what brought us to Asheville, and asked her what the one thing was that Asheville had to offer that we needed to do. She said "Get on that Purple Bus!".  The purple bus that we saw earlier in the evening is operated by a tour company called LaZoom, which offers various types of comedy tours of Asheville. The tour we saw getting ready to depart was a Band and Beer Tour, which is a fantastic live music filled voyage and BYOB bus ride to two of Asheville's most popular breweries. The tour was sold out online, but we decided that if the stars aligned, we would definitely be taking a funky expedition on that bus the next evening.
Day 8 – Asheville: Chimney Rock, Breweries, and LaZoom!
We started our only full day in Asheville with breakfast at Liberty House Coffee and Café, which we had stumbled upon while looking for an alternative to stopping at a Starbucks. This café is located in a converted house in a neighborhood, with plenty of outdoor seating. We opted to sit inside because the patio was wet from the rain, and enjoyed two coffees, avocado toast and a breakfast sandwich.
Now that we were properly fueled for the morning, we set out for Chimney Rock State Park to take in the view from Chimney Rock. As we drove down the beautiful U.S. Route 74 Alternate, it began to rain steadily for much of the drive. We weren't exactly sure what this meant for our viewing prospects on top of the rock, which is said to offer 75 mile views of the area. When we reached Chimney Rock Village, it was pouring and there was a prospect of an incoming thunderstorm. We decided to walk around the village in hopes that the rain would subside, but as we may not make it back to North Carolina again, we decided to pay the entry fee and go up to the rock anyway. From the parking area, we hopped on a shuttle which took us up a narrow winding road the trailhead and elevator to the view point. From the shuttle drop-off, we opted to take the elevator to save time.
We were actually surprised to hear that there was an elevator to the top of the rock. The elevator is at the end of a 198 foot long tunnel that was blasted into the mountain side in 1949, and takes you up 26 stories. The elevator had just reopened right before our visit after having been closed for nearly 3 years, so we were fortunate that it didn't break. I'm not sure what happens if an elevator inside of a mountain breaks down in the middle of a ride, so I'm glad we didn't have the opportunity to find out. Upon exiting the elevator, we walked through the Sky Lounge and outside to the top of the rock. It was still raining when we reached the viewpoint, so those 75 mile views weren't in the cards for us on this particular day. We were instead treated to misty/cloudy skies and a view straight down to Chimney Rock village. While the view was disappointing, we still had a great time out on Chimney Rock
From Chimney Rock we headed back to Asheville to hit more breweries. We first visited the Hi-Wire Brewing Big Top in the Biltmore Village Area. The Big Top location is a huge warehouse with bar and a giant projection screen, which was showing the Russia vs. Croatia World Cup Semi-final game. After Hi-Wire, we headed over to the River Arts District to the see the Good Vibes water tower mural. Right near the water tower is a White Duck Taco Shop location. This place specializes in unique a la cart tacos with flavors you wouldn't expect to have in taco form. We ordered a jerk chicken taco and a thai peanut taco, both of which were tasty as hell! While in the RAD, we also visited the New Belgium Brewing Asheville Brewery. While admittedly not the biggest fan of New Belgium beers, the Asheville facility is phenomenal! Located adjacent to the French Broad river, we enjoyed a flight on the patio while watching people float down the river in inner tubes. This is a great place to grab a beer and enjoy nice weather, with the park like setting directly in front of the tasting room to hang out at as well.
As the evening approached, we headed back toward downtown with the intent to catch the 5:45pm LaZoom Band and Beer Tour. We dropped off our car at the hotel and hustled over to the LaZoom Room to see if there were any last minute cancellations. As it turns out, three people from a larger group had decided to cancel, so they were able to book us on the tour. Prior to boarding, small packages of beer and snacks are available to bring on the bus in case you came empty handed. We purchased a Redneck Tour Package which included 4 cans of PBR, 2 bags of chips, 2 jerky sticks, and 2 LaZoom Koozies and boarded the bus. While on the bus, the band played in full swing, while our tour guide Mike worked to whip the bus into a frenzy. There was a good crop of people on the tour with us, including a bachelorette party, so it didn't take much for everyone to liven up and give the band proper energy to feed off of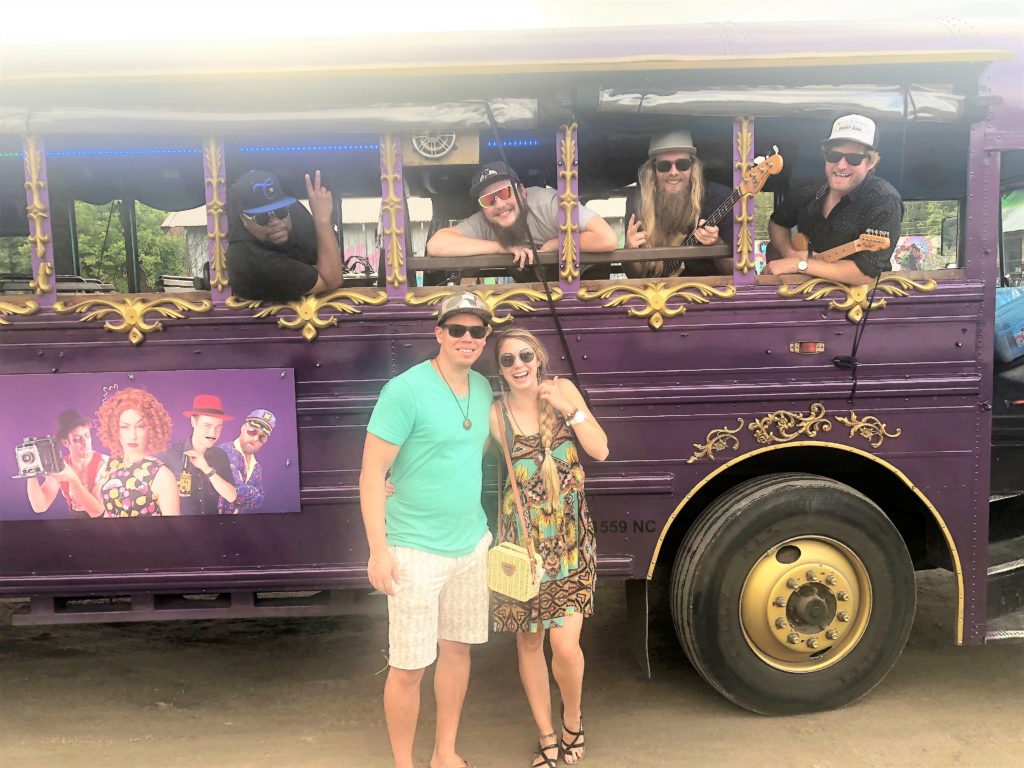 This party on wheels grooved down the beautiful streets of Asheville to Highland Brewing, the first legal brewery in Asheville since Prohibition and our first stop on the tour. The group spent about 45 minutes at Highland Brewing, about enough time to grab a pint or flight and explore the large indoor and outdoor areas of the brewery. We both tried ordered pints of their pilsner, which was so crisp and delicious we bought a 6 pack to take back on the bus. From Highland Brewing, the bus headed toward the River Arts district to the Wedge Brewing Co. at Foundation. This Wedge Brewing location is a must visit for the massive concentration of graffiti murals that surround the area. We stayed here for about another hour or so, chatting it up with some of the nice people on the tour, including the bachelorette party that tried to recruit Heidi to come and visit Lexington, Kentucky. With everyone now feeling properly hydrated, we boarded the bus to head back to the LaZoom Room. Instead of driving us directly back to the bar, the bus driver drove us through downtown Asheville with the band now playing louder than it had been at any point of the tour. Onlookers looked at this purple purveyor of merriment with confusion and excitement. Some danced along as the bus drove by, and one street performer even made an attempt hitch a ride. We definitely recommend that a LaZoom tour be included in any Asheville itinerary.
Our evening ended with dinner and drinks at Asheville Brewing Company. The full day of exploration caught up to us, so we decided to head back to our hotel and rest up for the drive to Atlanta in the morning. While we only had a short time in Asheville, we would definitely come back for another visit in the future. The laid back vibe of the town, the breweries, and outdoor adventures abound in this Blue Ridge Mountain gem.
Day 9 – Back to Atlanta: Sliding Rock and Oskar Blues
While our main objective of the day was to get to Atlanta, we took some time to fit in a few last minute activities. Before leaving Asheville we grabbed some coffee and Heidi did some last minute treasure hunting in a few of the vintage shops downtown. We then headed south of Asheville toward Brevard, where we cut up U.S 276 (Forest Heritage National Scenic Byway) for stops at Looking Glass Falls and Sliding Rock. Looking Glass Falls is a 60' waterfall in the beautiful Pisgah National forest that can easily be accessed from the road. From Looking Glass Falls, we drove further up the road to Sliding Rock. Sliding Rock is exactly what the name suggests: a 60 foot natural waterslide and freezing cold plunge pool! As we were visiting on a beautiful hot, southern day, Sliding Rock was packed and there was a line to get up to the top of the slide. We waited in the quickly moving line to the top, waiting in anticipation as we watched others tumble down the cascade. Our turn had finally arrived, so we went down together side by side without crashing into each other, and landing into the cold pool below. The water was ice cold, but it felt exhilarating on this hot day. Like Southern California in the summer, a July day in the South is about finding any way possible to stay cool. Sliding Rock sure as hell accomplishes that. After Sliding Rock, we made one last stop in Brevard at Oskar Blues Brewery. Like New Belgium Brewing, Oskar Blues is another large Colorado brewery that has planted new roots East of the Mississippi. After lunch at Oskar Blues, a three hour plus drive stood between us and Atlanta.
We pulled into Atlanta in the evening, dropped off our rental car, and caught an Uber to the Crowne Plaza Atlanta-Midtown. Rather than hit the town for one last hurrah, we ordered room service and reminisced about our nine day whirlwind tour through 3 cities and a night in a tree on the Edisto River.